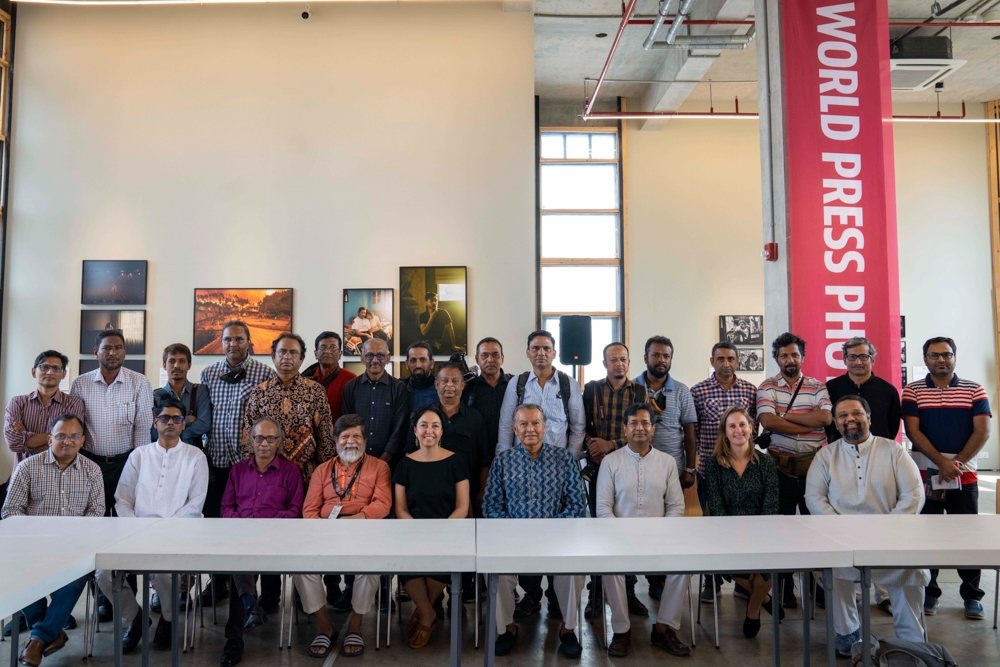 World Press Photo director emphasises on visual literacy for mainstream education
World Press Photo Foundation's Executive Director Joumana El Zein Khoury explains the importance of visual literacy at a discussion held at DrikPath Bhaban today in the evening. Ms Khoury is visiting Bangladesh on the occasion of the global tour of the World Press Photo Exhibition 2022 in Bangladesh hosted at Drik Gallery, Dhaka.
Visual literacy equips us to understand and analyze the contextual, cultural, ethical, aesthetic, intellectual, and technical components involved in the production and use of visual materials. During the talk, Ms Khoury discussed how visuals used in mainstream education can change the entire dynamics of learning. The discussion session was moderated by Shahidul Alam, founder of Drik Picture Library.
Meanwhile, a meeting was organised at Drik Gallery with the Editors' Council of local newspapers today at 11 am. Mahfuz Anam, Editor and Publisher, The Daily Star, Nurul Kabir, Editor, New Age, Sajjad Sharif, Managing Editor, Daily Prothom Alo, Dewan Hanif Mahmud, Editor, Daily Banik Barta and newsroom editors and photojournalists of other media were present in this event.
At the beginning of the discussion, Shahidul Alam said that Drik has been selected as a regional partner in Asia after many years of discussions with the World Press Photo Foundation at various stages with the aim of advancing photojournalism. In continuation of this, the World Press Photo Foundation and Drik are planning to take various initiatives to create opportunities for the expansion of photography and skill development in the region.