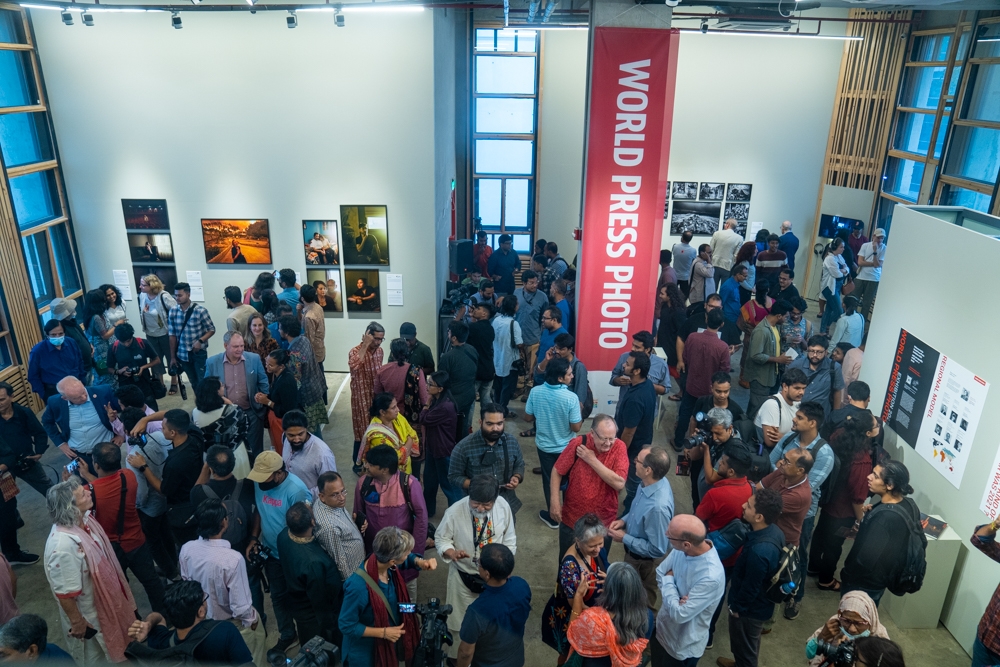 World Press Photo Exhibition 2022 continues its global tour at Drik Gallery
Drik Picture Library, in partnership with the World Press Photo Foundation, organised and inaugurated the World Press Photo Exhibition 2022 at Drik Gallery, Dhaka today at 4:30 pm. The Exhibition 2022, on its world-wide tour, showcases the photo stories from the 65th annual World Press Photo Contest. The annual World Press Photo Contest recognises and celebrates the best photojournalism and documentary photography produced over the last year from around the world.
At the opening ceremony held at Drikpath Bhobon earlier this evening, H.E. Anne van Leeuwen, Ambassador of the Kingdom of the Netherlands to Bangladesh, Joumana El Zein Khoury, Executive Director, World Press Photo Foundation, Abir Abdullah, Photographer and former World Press Photo Jury, and Shahidul Alam, Managing Director of Drik and ex-jury board chair for the World Press Photo contest were present to reflect on the exhibition and the context of its Dhaka edition.
On the context of Dhaka Edition by Drik, Shahidul Alam stated, "All these printing and all the framing was done here in Bangladesh. This is the first time this has happened, and it has happened because there is now a level of trust. The World Press has a condition, before it shows any piece of work. And that is that none of the work can be censored. The entire exhibit has to be shown. You cannot selectively leave out pictures which are uncomfortable. That meant that Drik really was the only place in Bangladesh where we could have this show. Because there is no other venue which today, in this repressive environment, can say, "We can withstand that pressure".
Explaining the collaboration, Joumana El Zein Khoury stated, "All the photographs (on display) really show stories that have come from all the different regions, and have been selected by juries who understand the regions. That is the kind of collaboration I am very keen on and that, I hope, will define our relationship in the future. For us, context and sensitivity are of the utmost importance."
H.E. Anne van Leeuwen expressed, "World Press Photo is more relevant than it has ever been, because of the enormous importance that the free media, the free press has in the world.And we see the reality on all of the pictures seen here. Some of them are gruesome, some of them are touching. And that is all because of those courageous journalists doing that work. One of the sorriest things that you could note, I feel, is that these threats are sometimes coming from the very institutions that are supposed to protect the free media. This is of course the rule of law. And it is a tragic set of circumstances. I encourage you all to go around. And those of you who are journalists – photojournalists, cartoonists – please know that the international community is with you and that we support you."
The 2022 World Press Photo Contest worked with six worldwide regions – Africa, Asia, Europe, North and Central America, South America, and Southeast Asia and Oceania. For its 65th edition, selected by an independent jury out of 64,823 entries by 4,066 photographers from 130 countries, the 2022 World Press Photo Contest regional winners are 24 photographers from 23 countries: Argentina, Australia, Canada, Colombia, Bangladesh, Brazil, Ecuador, Egypt, France, Germany, Greece, India, Indonesia, Japan, Madagascar, Mexico, the Netherlands, Nigeria, Norway, Palestine, Russia, Sudan, and Thailand. Providing a variety of perspectives from all corners of the globe, the awarded works present courageous stories, invaluable insights, and a diversity of interpretations – from the undeniable effects of the climate crisis to civil rights movements, and from access to education to preserving indigenous practices and identity.
This year's global jury board was comprised of seven members including Bangladeshi Tanzim Wahab, Festival Director of Chobi Mela International Festival of Photography. He was also the chair for the regional jury of Asia.
From the 24 regional winners in each of the four categories of WPP's contest model, the 2022 Contest jury selected the four global winners: Kamloops Residential School by Amber Bracken, for The New York Times was awarded World Press Photo of the Year; Saving Forests with Fire by Matthew Abbott, Australia, for National Geographic/Panos Pictures World Press Photo Story of the Year; Amazonian Dystopia by Lalo de Almeida, Brazil, for Folha de São Paulo/Panos Pictures received the World Press Photo Long-Term Project Award; and Blood is a Seed by Isadora Romero, Ecuador received the World Press Photo Open Format Award.
The World Press Photo Exhibition 2022 was premiered in Amsterdam, the Netherlands, on 15 April this year, before starting its global tour. Through its successful worldwide exhibition program, they have brought the stories that matter to millions of people in more than 20 countries so far.
Earlier this year, Drik Picture Library was selected by WPPF as the Asia partner to connect to local networks and provide more regional visibility for local photojournalists and photo documentarists. To offer a more global and better geographic balance of perspectives, the World Press Photo Foundation launched a new regional strategy this year, changing the set-up of the annual contest and judging.
The exhibition will be on display for all till November 21, 2022, every day from 3 pm to 8 pm.
About the World Press Photo Foundation
A global platform connecting photojournalists, documentary photographers and worldwide audiences through trustworthy storytelling.
World Press Photo was founded in 1955 when a group of Dutch photographers organised a contest ("World Press Photo") to expose their work to an international audience. Since then, its mission has expanded. The contest has grown into one of the world's most prestigious competitions, rewarding the best in photojournalism and documentary photography from around the world. Through its successful worldwide exhibition program, WPP presents to millions of people the stories that matter.
The World Press Photo Foundation is a creative, independent, nonprofit organisation based in Amsterdam, The Netherlands. The foundation appreciates the support of its strategic partners, the Dutch Postcode Lottery and PwC.
For more information, please visit - www.worldpressphoto.org.
About Drik Picture Library
Drik, Bangladesh is an independent media organisation committed to challenging social inequality. Established in 1989, it specialises in art, media and communication for local and global audiences. Known for its creativity and innovation, this award winning agency gave rise to the world renowned photography school, Pathshala; the best known photo festival in Asia, Chobi Mela; and Majority World, a 'fair trade' photo agency.
The pursuit of an egalitarian and non-militaristic world where the dignity of all human beings is valued has been a central principle of Drik. It has done so, by creating a nurturing environment where storytellers, artists, activists and scholars have been able to speak truth to power and challenge oppression in all forms, while maintaining the highest levels of professionalism. 
For more information, please visit – www.drik.net.
For further queries, please contact:
Amina Neyamat
Equality, Diversity and Communications Officer
Email: amina@drik.net
×