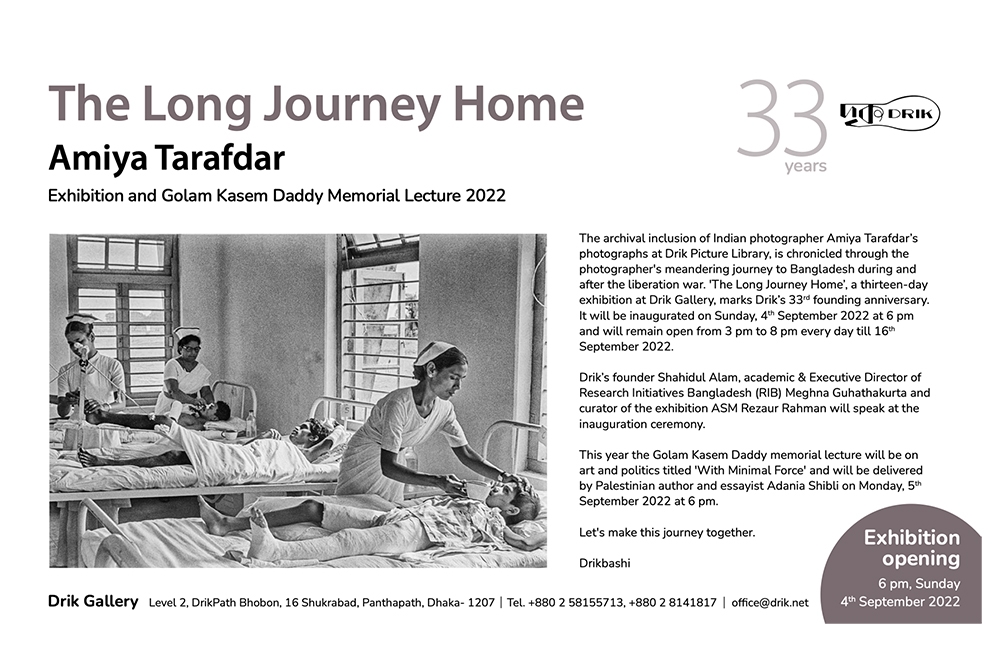 The Long Journey Home
an exhibition observing Drik's 33rd founding anniversary
To mark Drik's 33rd founding anniversary, an exhibition titled "The Long Journey Home" was inaugurated at Drik gallery today at 6 pm in the evening. The exhibition celebrates the archival inclusion of Indian photographer Amiya Tarafdar's photographs at Drik, which is chronicled through the photographer's meandering journey to Bangladesh during and after the liberation war.
Drik's founder Shahidul Alam, academic & Executive Director of Research Initiatives Bangladesh (RIB) Meghna Guhathakurta and curator of the exhibition ASM Rezaur Rahman spoke at the inauguration ceremony.
This year the Golam Kasem Daddy memorial lecture will be on art and politics titled 'With Minimal Force' and will be delivered by Palestinian author and essayist Adania Shibli tomorrow, 5th September 2022 at 6 pm. Joining online, Adania's presentation will feature work by Palestinian artists mainly produced in the last two decades. The art responds to the political, economic, spatial, and social ramifications of military techniques implemented by the Israeli occupation, designed for the control and punishment of Palestinians.
Following the Covid-19 health safety guidelines, the exhibition will remain open to the public from 3:00 pm to 8:00 pm every day until 16 September 2022.
For further information, Contact:
Amina Neyamat
Equality, Diversity and Communications Officer
Mobile: +8801557757194
Email: amina@drik.net
OR
Sultan Mahmud Mukut
Executive, Drik Images
Mobile: +8801671025605
Email: mukut@drik.net
×